In November 2019, the Mile High Youth Corps, City of Trinidad, and the Purgatoire Watershed Partnership hit the ground to restore and enhance more than an acre of the Purgatoire River along the Trinidad River Walk, clearing three separate sites of noxious woody species (primarily tamarisk, Russian olive, and Siberian elm) and cleaning up a large amount of woody debris and trash. Many community members stopped by while the work was being done to compliment workers on a job well done and we have heard since how excited people are to be able to see the river again and be able to hang out in these newly cleaned up areas. A big shout out to Mile High Youth Corps for all of their hard work, and to the City of Trinidad for their significant contributions to these efforts!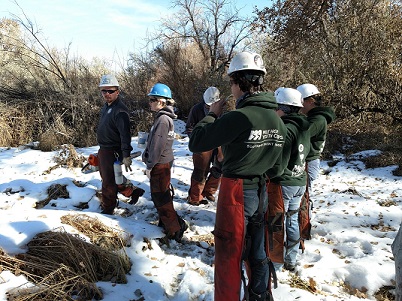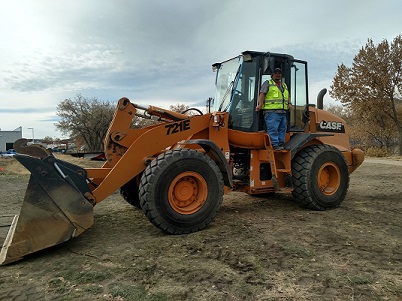 Photos Above: Mile High Youth Corps members preparing for work for the day (left); City of Trinidad employee Ernesto Barela, who provided a ton of great support moving cut-down noxious woody debris.
This work was our first kick-off project funded by the newly awarded Great Outdoors Colorado (GOCO) Stewardship Impact Grant, which is a watershed effort consisting of more than 25 partners and growing, working to conduct river restoration and recreation enhancement efforts along the Trinidad River Walk and adjoining areas, as well as in the newly acquired Fishers Peak area as things evolve there (see more info on that below). Part of these efforts include the implementation of the new
Purgatoire Watershed Outdoor Stewardship Program (to be unveiled soon!)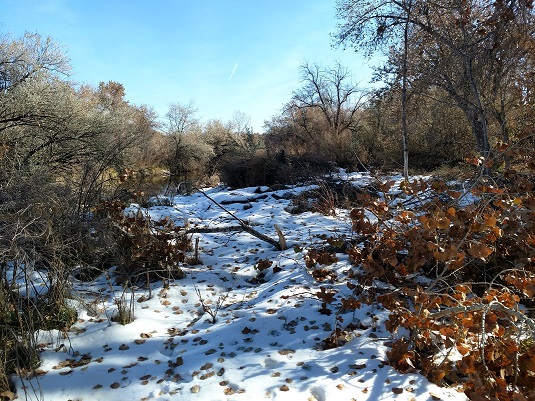 The main restoration and recreation enhancement work site just west of Linden –
before (above) and after (below) work was completed. You can see the river now! And just wait til we can see the results in all their splendor in springtime!
If you haven't checked out these newly restored and enhanced sites yet…
head over to the Noah's Ark Shelter parking lot in Trinidad – from there you can access one of the newly enhanced sites right at the parking lot, and another one by taking a short walk on the Trinidad River Walk past the basketball courts and over the footbridge.